Luiza says that companies should be protagonists of the country – Photos: Gladstone Campos / Especial Reputation Feed
The trajectories of Magazine Luiza and Luiza Helena Trajano are confused. Even in the name, although the company's name comes from Luiza's aunt, the founder of the brand created in Franca (SP), in the 50's. Magazine Luiza became one of the largest retail chains in the country, currently led by his son, Frederico, responsible for the digital shift that transformed the company into a powerful retail platform, which, in sales, had an average annual growth of 28% in the last three years. Far beyond strengthening the company and the brand, however, Luiza Trajano built her own history and identity.
At the head of the Board of Directors of the retail chain, she continues to define strategies and watch over the company, but has gained a unique representation by buying causes in the name of entrepreneurship and female protagonism, at the head of the Brazilian Women's Movement, and, more recently, amid the Covid-19 pandemic, leading a campaign to encourage vaccination. She does not refrain from making political demonstrations, never in favor of political parties or ideologies, always in favor of Brazil, as she herself states.
Even so, it ceases to be involved, from time to time, in fake news in the polarized terrain of social networks, an environment in which Luiza skilfully moves. The only Brazilian to join the Time magazine's list of the 100 most influential people in the world in 2021, also LinkedIn's Top Voice, says she is very proud to be recognized for her reputation. Since 2017, the businesswoman has been at the top of the Merco survey ranking every year, which identifies the most reputable leaders in the country.
In this interview to Reputation Feed, in her large, glass-enclosed room, in full view of everyone, at Magazine Luiza's head office, on Marginal Tietê, in São Paulo, in addition to talking about reputation, Luiza evaluated the evolution of ESG issues in the country, addressed positioning and his representation as a leader. In the conversation, he did not avoid addressing the issue of polarization and its effects and also confessed that, despite the size of engagement he achieved on social networks, dealing in this world "is a continuous learning process".
The year 2023 began with many challenges. What is your expectation taking into account the business and reputation issues?
I can't see the year, I see it as a post-Covid. The pandemic brought consequences that we still don't understand. And one cannot talk about reputation without talking about ESG. In 2011, no one asked me if I had board diversity. Today, to be in B3, they make a questionnaire. When would I think I would see the financial market enter the ESG? Today is a must.
.
How to work reputation within companies? How did you do here?
We have very serious premises. We are obliged to be simple and transparent and we have five non-negotiables. But that's not now, it's years. It is a posture, from the person in the highest office to the lowest. When they asked me about purpose, how to treat people, about diversity, for example, I would say: take it slow. Today, I say: either the president enters (on the ESG agenda) or in five years it's out.

A list of five items establishes behaviors that are not accepted in the company – Image: Reproduction/Magazine Luiza
"You can't please everyone when you take a stand"
"When we did the trainee program, we had 72 hours of clubbing. Today, we only receive praise. No one can mess with my reputation because I took the training. They may not like it, but that doesn't affect the reputation."
From the point of view of its public positioning, when the company decided to make the trainee program exclusively for blacks (in 2020), a measure that provoked great repercussions, you were firm. What's the price of this?

In any change of paradigm, mainly of ideology, on purpose, you pay a price. When we did the trainee program, we had 72 hours of clubbing. Today we receive praise and awards worldwide. Why? We were changing training that had never been changed. Today, the whole world does the same. We launched the second program, and we had no further criticism. No one can mess with my reputation because I took the training. They may not like it, but it doesn't affect reputation.

When you get to this point, many companies and entrepreneurs back down and apologize. What would you say to companies?
They have to. If they don't, the company will not be well evaluated.
.

In this sense, can you highlight what were the biggest risks and how were they managed?
Regarding reputation, I never saw risk, I saw prices to pay.
.

This point of paying prices is relevant, because we are no longer living in a world that allows us to stay on the fence, pleasing everyone all the time.
You don't win from both sides.
You've built a solid reputation. So it's harder to affect?

It affects the Magazine itself, many times. You won't be able to please everyone when you take a stand, when you have leadership. If you don't have it, it's easier.
.

"I always have. People need a concrete example."
.
In your speech, there is a lot that the world has changed. Do you realize how much you contributed to making this change, with your positioning?
Why have I received so many awards? Because I always did. People need a concrete example, and I am a concrete example. I'm not the only one.
.
Many businessmen have principles, they respect the DNA, the company's culture, but they are unable to show this, because reputation is someone else's point of view. People have to realize. Here we see it everywhere. How to get it?
It's to start doing. Have a healthy environment. We have a motto on our badge: do to others what you would like others to do to you. When you arrive at a company, how do you want to be received?
AND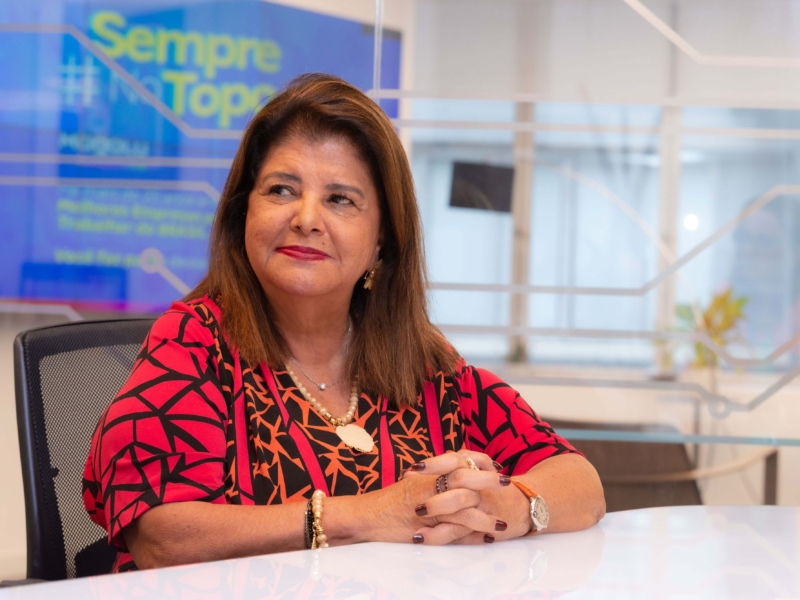 But you have to do it with a strategic business decision, right?
It's not even a business. It's posture. Business is a consequence. You have to be, to have. If you want to have, to be, it doesn't work out very well. What bothered me a lot was (the search for) short term result (promoted) by the financial market. A lot of people did it at any cost.
.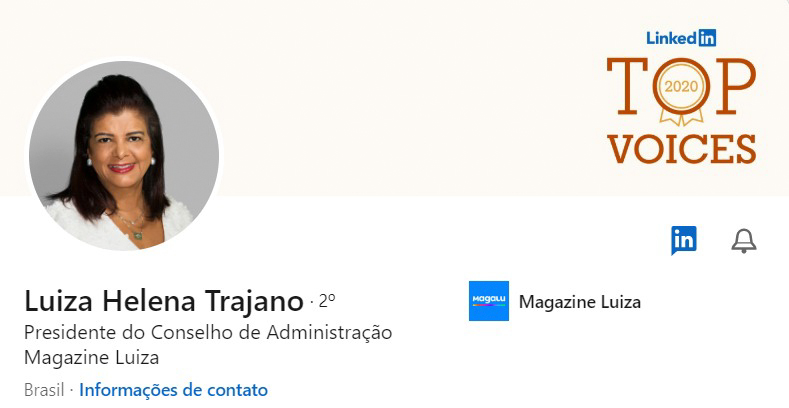 You are a top voice on LinkedIn. Do you value this position and dedicate yourself to the network? Some CEOs prefer to stay off networks and say they don't have time for them.
I also have difficulty with this. But I use and take great care with communication, because communication is not what you say, it's what the other person understands. Often, you want to say one thing and the other doesn't understand, and that's your problem. It is continuous learning.
Do you take the time to stay on social media?
I write at night. step to Ricardo (Advisor Ricardo Carvalho, who has worked with Luiza for 28 years). I usually write on Instagram, and he moves on to LinkedIn.
.
Do you notice the difference in having the networks active, responding to people? What's the benefit?
It is very difficult for a company not to have social networks. Now here is my voice. I have almost 800k followers, never paying for any. But neither do I have a commitment to be the voice of the company. Sometimes I go a week without posting anything.
.
That is, regardless of the company, you are already a brand, a voice.

Because I have a name, I got into many causes. I spoke of women long before anything else. Now we have done a wonderful job in favor of the vaccine (in reference to the United for the Vaccine Movement, led by her). Thank God, several women are also working in this direction today. I don't want to be the only one.
"Reputation is what you are and how others see you. It's no use being one thing and others don't see you that way. Therefore, recognition by reputation makes me very proud"
What is reputation for you?

Reputation is what you are and how others see you. It's no use being one thing and others don't see you that way. Therefore, recognition by reputation makes me very proud.
.
In this new world, what are the opportunities for someone who is not Luiza yet, but wants to be relevant?
It doesn't have to be Luiza. All who do are inspiration.
.
What can a company do to fulfill its role in society?

She has to be the protagonist of the country.
Anik Suzuki is CEO of ANK Reputation, Christianne Schmitt is editor of the Reputation Feed and Lucia Ritzel is a consultant mr. and Head of Content at ANK Reputation
christianne.schmitt@ankreputation.com.br
---
---